About Emily
When I started competing in 2013 British Dressage had already started relaxing the dress code to allow an array of colours on stocks, jackets, browbands and accessories. It was great to see a change in this sport to allow people to show their personality through their own style along with their horse.
However, finding a good range of quality products at affordable prices proved far more difficult than I imagined.
Like most people I wanted stylish and easy to use, colour co-ordinated accessories for me and my horses. I think looking and feeling smart and confident is really important and whilst we spend hours washing and plaiting our horses, it is nice to feel we can look as good as they do.
So, out of my passion for design and my dream to provide quality and beautiful designs that wouldn't break the bank, Equi-Jewel by Emily Galtry was born.
I personally make each browband by hand, using the best quality English leather with hand stitched jewels; this means that I am able to bespoke design each browband to match that all important colour scheme. For the rider, I also make stock pins to match the browbands and stocks and scrunchies which are also handmade
Having Equi-Jewel means that I can do everything I love; train my horses, compete, be creative and sell beautiful riding gear products on my equestrian online shop that people enjoy wearing as much as I do. It also allows me to fund my training and competitions, I feel very privileged to have been chosen to represent my Country at the Senior Home International in 2015 coming individual 3rd at Novice Restricted and in 2016 coming individual 6th at Novice Silver/Gold.
Pictured right: Emily at The Welsh Dressage Championship - Novice Gold Medalist and Highest Placed BYRD 2016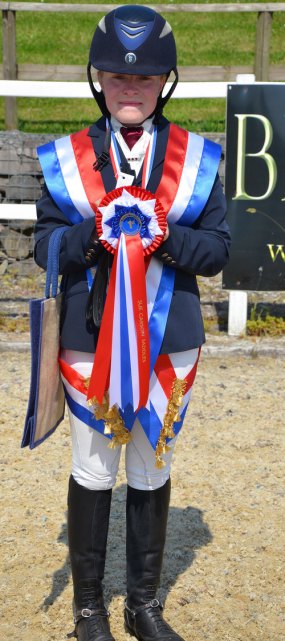 ---